Stephen Vnasdale comes to us this year from Sioux City, IA where he had been teaching at Westmoor Music Co. and Siouxland Music Academy in South Dakota and Iowa for the last 19 years. He is TCA's Creative Arts Department Director and teaches 2nd thru 12th grade Music, as well as the Director for the TCA's Praise Band. Since his arrival this Summer, Stephen has been attending Trinity Bible Church.
She received a Bachelor of Fine Arts in Visual Art Studies from The University of North Texas. She loves visual arts because she has the ability to express herself without feeling like her expression is "wrong". She believes art can and does encompass everything, and within that broad spectrum, she has the freedom to choose and create as she sees fit. However, as a Christian, she feels a responsibility to let her love for Christ to be the driving force behind every creative thing she does. If her creative expression doesn't show love and give praise back to The Creator, "then [she is] a noisy gong or a clanging cymbol." (1 Corinthians 13:1)
She grew up in a musical household with a sister who taught music and a mom who is a published composer. She plays the guitar and leads children in songs on Sunday morning at church. Also, she loves to paint.
"There is no "wrong" way to create art. As long as the subject matter is appropriate, the way in which you express yourself is limitless. Develop your own style!! Anyone who wants to express themselves creatively should!!" Mrs. Graves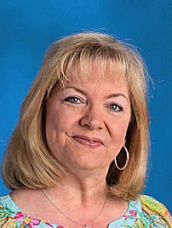 Kim Wheat
Mrs. Wheat received a Bachelor of Science in Health/Physical Education and English at Texas Wesleyan University. As the Yearbook sponsor, she loves producing a book for all the students and staff at TCA. She understands the responsibility that is given to her by documenting the everyday life at TCA. She is an experienced writer due to her degree in English.
"Students are always concerned about the early class, but we really do have a great time working on the yearbook. The sense of accomplishment is wonderful when we hand out the books and get to see the faces of students who are so excited about it." Mrs. Wheat