TCA Lady Eagles are off to a great start!
December 01, 2018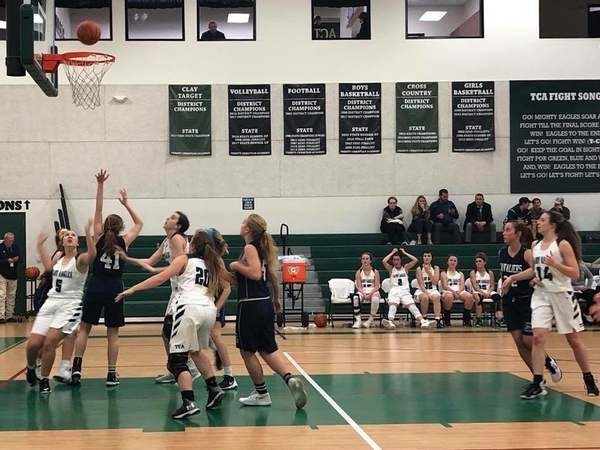 The Trinity Christian Academy Lady Eagles Basketball team has been off to a running start to begin the 2018-2019 basketball season. They opened the season at home on November 6 with a 50-49 victory over Burton Academy. The Lady Eagles were down by 13 with just over 3 minutes to play in the game and staged an incredible comeback, capped by making the game winning shot just before the buzzer to end the game.
After a close loss to Weatherford Express, the Lady Eagles competed in the Denton Calvary tournament over the Thanksgiving Break, finishing with a 2-2 record and a 3rd place finish in the tournament. Senior Maggie Nichols and Sophomore Stefani Gabaldon were selected to the All-Tournament Team.
The Lady Eagles picked up momentum after returning from Thanksgiving Break with a big 57-9 victory over Covenant Classical School of Fort Worth.
This weekend, November 29 through December 1, the Lady Eagles will be hosting the TCA varsity girls basketball tournament. This tournament will host some of the top private school programs in the area. Teams that will be participating are: Colleyville Covenant, Denton Calvary Academy, Fort Worth Country Day, Grapevine Faith, Pantego Christian, Southwest Christian, Weatherford Express and TCA.