TCA Eagles Baseball Finishes as State Runner Up at TAPPS Division III State Tournament
May 24, 2019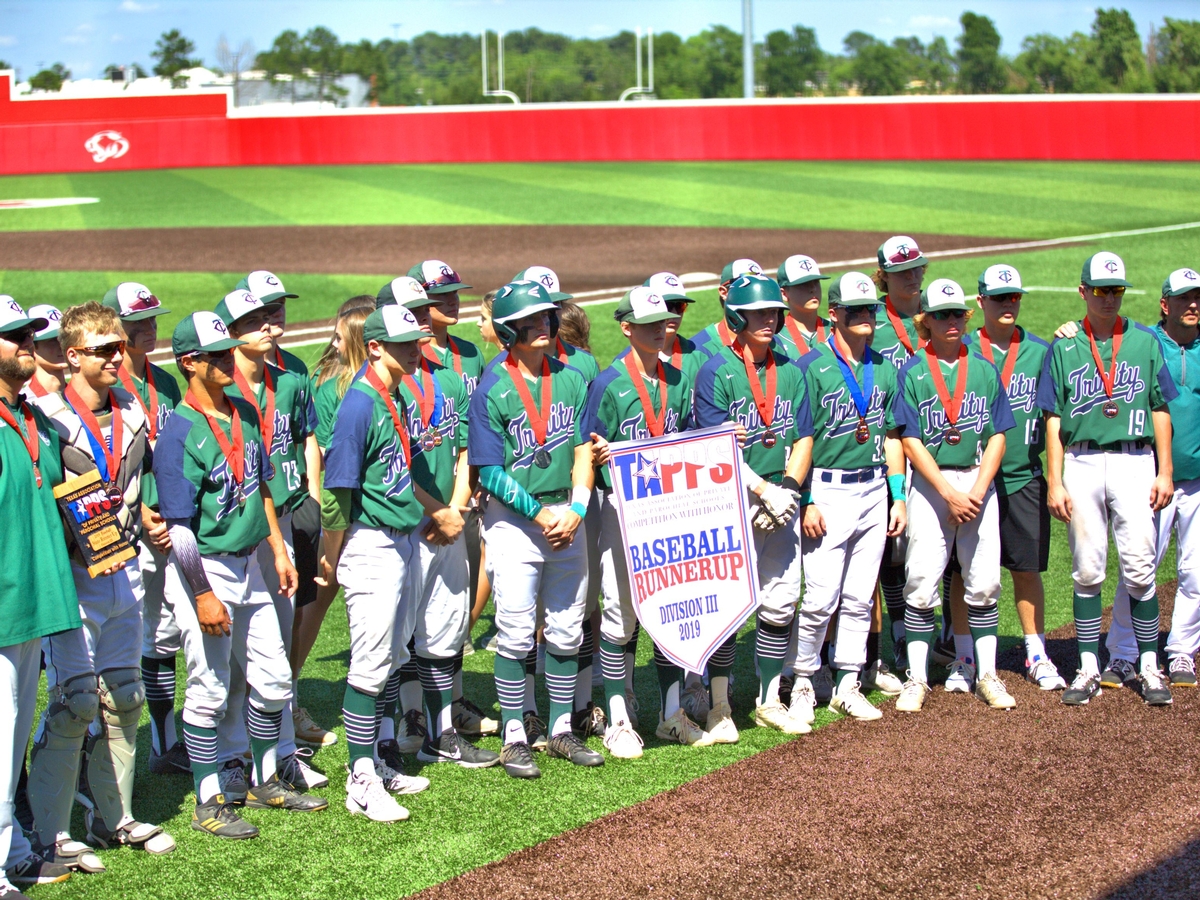 In the TAPPS Division III State Semifinal game on Wednesday against Lubbock Christian High School, the Trinity Christian Academy Eagles scored in the top of the 3rd inning after Cody Athey bunted and reached all the way to third base on an error by Lubbock Christian pitcher, Merritt McPherson. Athey ended up scoring on a ground out by Preston Gist. Lubbock Christian tied things up at 1-1 on the first pitch of the bottom of the 7th inning with a home run by Zeke Lott. The TCA Eagles ended up taking the lead in the top of the 8th inning. Preston Gist walked, Tito Gabaldon singled and Kayden Kelley drew a walk. Chance Roberts singled to drive in Gist and Jacob Sherman grounded into a fielder's choice to score Gabaldon. The Eagles shut down Lubbock Christian in the bottom of the 8th inning to claim a 3-1 victory and send them to the State Final game. Roberts toed the rubber for TCA and lasted eight innings, allowing two hits and one run while striking out seven and walking one.
In the TAPPS Division III State Final game on Thursday versus Houston Northland Christian, the Eagles fell behind early and couldn't come back in a 3-2 loss. Northland scored two in the 1st inning, but TCA got on the board with a run scored off an error by the Northland third baseman. TCA added a run in the 6th inning when Kayden Kelley scored on a single by Jacob Sherman. Sherman pitched for the Eagles and went six innings, allowing three runs on seven hits and striking out four. Kelley went 2-for-3 at the plate to lead the Eagles in hits.
"We had an incredible year! It didn't quite end the way we had hoped, but our guys worked hard and fought hard," said head coach Jonathan Baker. "They really showed character and resilience as they fought to win Wednesday and battled until the last out on Thursday. They're a great group of guys and it was exciting to see them excel this season."
Seniors Preston Gist, Kayden Kelley, Chance Roberts and Jacob Sherman all received All Tournament team honors. Senior Tito Gabaldon received 1st Team All State honor, Roberts and Kelley received 2nd Team All State honors and Gist received All State Honorable Mention honor.
"Even though we came up short in the State Final game these guys had a fantastic season and should be proud of all the hard work they put in that took them that far in the playoffs this year. They represented TCA well. This team, lead by nine seniors, was definitely special." said Joe Hamstra, TCA Athletic Director.