TCA all-district honors announced as they prepare for the TAPPS Division III State Semifinal game
November 28, 2018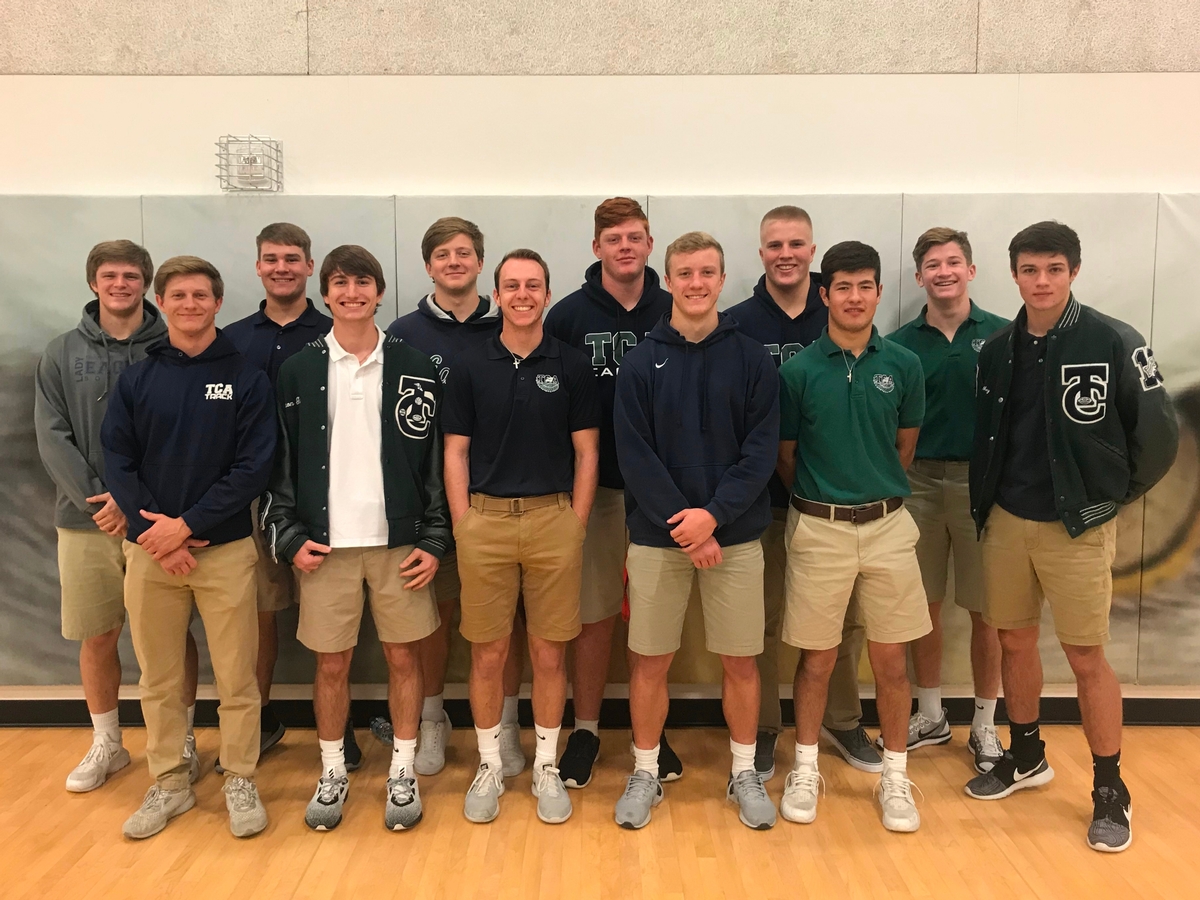 As the Trinity Christian Academy Eagles continue their quest for a State title, they play in the TAPPS Division III State Semifinal this Friday for the second time in three years!

The Eagles will play a tough district opponent again, Flower Mound Coram Deo, at 7:00pm on Friday, 11/30 at Pennington Field in Bedford. The winner of this game will advance to the TAPPS Division III State Championship next Friday at 12:00pm at Waco Midway!

We'd like to congratulate the following football players on receiving all-district honors this year. With their competitive district this year (3 teams ranked in the top 4 in the state), these honors are very impressive. Congratulations!
Honorable Mention OFFENSE:
Senior, Caleb Chesney - Running Back
Senior, Jackson Lewis - Wide Receiver
Senior, Gage Scott - Kicker
Freshman, Brayden Smalley - Offensive Line
2nd TEAM OFFENSE:
Senior, Cody Athey - Running Back
Senior, Tito Gabaldon - Quarterback
Junior, Lars Hanssen - Offensive Line
1st TEAM OFFENSE
Senior, Cole Alberts - Offensive Line
Senior, Preston Gist - Running Back
Senior, Carson Wert - Wide Receiver
Honorable Mention DEFENSE:
Senior, Tito Gabaldon - Punter
Senior, Jackson Lewis - Defensive Back
Sophomore, Jake Povero - Linebacker
Senior, Gage Scott - Defensive Line
Freshman, Brayden Smalley - Defensive Line
2nd TEAM DEFENSE:
Senior, Preston Gist - Defensive Back
Senior, Landry Smith - Linebacker
Junior, Marshall Tovar - Defensive Line
1st TEAM DEFENSE:
Senior, Cody Athey - Linebacker
Senior, Caleb Chesney - Defensive Back
Junior, Lars Hanssen - Defensive Line
Senior, Carson Wert - Defensive Back
Division III District I Newcomer of the Year: Freshman, Brayden Smalley
Division III District I Co-MVP: Senior, Cody Athey
Division III District I Coach of the Year: Joe Hamstra
Front row pictured L to R:
Marshall Tovar, Brayden Smalley, Jackson Lewis, Cole Alberts, Lars Hanssen, Gage Scott
Back row pictured L to R:
Landry Smith, Preston Gist, Carson Wert, Caleb Chesney, Tito Gabaldon, Cody Athey
Not pictured: Sophomore, Jake Povero