TCA Eagles XC team had 11 out of the 17 runners set PRs
September 14, 2018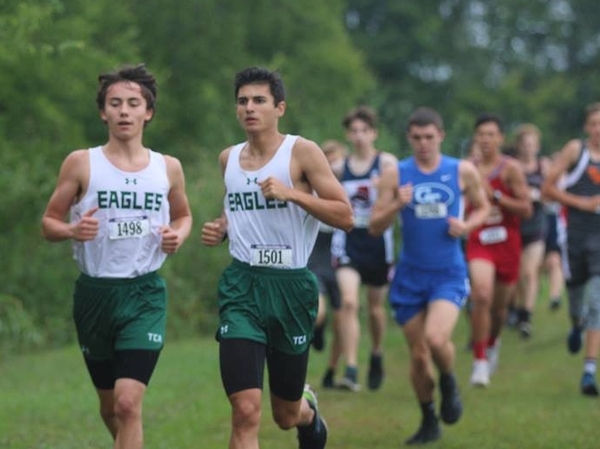 The TCA Eagles XC team had 11 out of the 17 runners set PRs this past weekend at the Sadler S & S Ram Run, FAST 5K and FURY 3200, hosted by S & S Consolidated High School.
It was a very wet, soggy course and the runners got rained on periodically, but they turned in their best races of the season this far, with 11 out of the 17 runners setting PRs (personal records) yet again!
For the Varsity ladies, it was a great day with junior Emma Chrane finishing the FURY 3200 course in 14:50. This not only set her 35 second personal best, but beat her goal for this season by a full 10 seconds! She was followed closely by junior Rebecca Lee, who completed the 2 mile course in 15:28, her second fastest time of the season and just 3 seconds from her own new PR.
For the Varsity boys FAST 5K, The results were equally good! PRs were set by junior Jacob Camp (18:26), junior Max Perales (20:32), senior Bayley Gonzales (21:00), junior Isaac Droguett (21:19) and sophomore Colton Bevering (21:17). Adding to their success, the top 5 scoring varsity runners: junior Joel Jeffers, junior Jacob Camp, sophomore Malen Baldridge, junior Bronson Pope and junior Max Perales, secured a 2nd place team finish for the Eagles out of 9 scoring teams and 14 schools being represented!
The JV boys squad had perhaps the best team improvement of the day! Out of the 7 runners on the squad, 5 had personal bests: junior Matthew Newton (23:41), sophomore Luke Ross (24:11), junior Micah Bray (31:09), junior Reed Rogers (26:09) and sophomore Parker Givens (30:16). The scoring 5 for the JV boys, junior Matthew Newton, junior Thomas Bridges, sophomore Luke Ross, junior Colson Schroeder and junior Reed Rogers, also placed 4th as a team out of 13 teams represented!
God has blessed the Eagles XC team with strong leadership from captains juniors Joel Jeffers and Emma Chrane, in addition to a great work ethic from every runner on the team, and a school and parental support system that pushes them to do their best in all they do. Their hard work is definitely paying off. In the last 4 races, these 17 runners have clocked 33 personal bests between them! As they approach the mid-point of the season, these runners are poised to accomplish even more!

Written by: Coach John Harris & Krystal Lewis
Photos by: Stephanie Jeffers